Time Versus Need – Retire Online To Add to Your Income  
---
What if you find yourself forced into retirement? Have you ever thought you could retire online and continue to earn a living? It is possible to make money online.
What I mean is retire to new income possibilities and job responsibilities working online as an affiliate marketer. It took me a while to get there but if you wonder what to do next in life I have a retire online story I think will interest you.
Not Ready to Go
---
If you are like me and in you're in your mid-sixties then maybe you feel your not ready to retire. I sure wasn't ready! I liked working. I know that may sound crazy but work has it's rewards.
Getting up every day and having a purpose in life is important and provides a sense that I'm needed.
Work is enjoyable and helping others provides a sense of accomplishment.
A job keeps me engaged with other people providing a sense of self-worth.
The money pays the bills. It's good to be able to pay your bills.
Unfortunately many of us in our mid-sixties find ourselves in a place we never imagined. We've lost our job unexpectedly, for whatever reason, and we just can't seem to connect with another job.
It's hard to get interviews and when you do have an interview it just doesn't seem to click. Not being able to hear those two words – You're Hired! – can get depressing very quickly. I know because I've been there myself.
One Thing I Know
---
There is one thing I know for sure. If I sit down on the front porch rocking chair the world will quickly pass me by. It will probably pass me by in less than a week.
The longer I waited to find a new job the harder it got. I began to doubt myself and my skills and started to think maybe they're right, I can't compete anymore. My skills are outdated and I'm not needed. Talk about being depressed.
I felt that way and then I realized: The world has changed and I can take advantage of the changes to redefine myself and the work that I do.
What do I mean the world has changed? Most everything I do and what 3 billion other people in the world do is almost everything online.
A few short years ago it wasn't that way. For example, we would get our monthly bills by mail and mail a check back days ahead of the due date so that we didn't get a late payment charge. Remember those days?
Now we pay online if, that is, we haven't set up automatic payments so we don't even have to think about paying the bill.
Today we use the Internet to: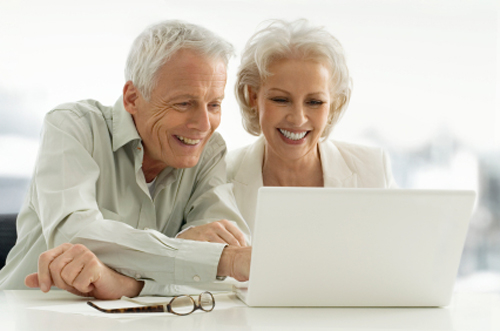 answer questions
solve problems
improve skills
fix something that has broken
identify the best product for our needs
find the lowest cost for a product we want to buy
And, that's where your ability to retire online comes in. You have a lot of experience and knowledge lets's put it to use and make some good money in the process.
By helping other people find something, learn something, or solve their problems using the Internet you can build and grow a successful online business. This post will help show you how to begin your journey onto the information superhighway with confidence.
A New Way of Life
---
So now you know half of my story. Maybe it's your story too.
I lost my job because my employer had a downturn in funding. After over a year and hundreds of job applications and a few interviews that didn't result in a new job I was not in a good place. I started reading the emails we all get promising great monthly incomes working on line. If we can afford the entrance fee that is. I could not.
Technology and the world have changed and many of us try to cling to what we know best – the old way of doing things. We hear of people making fortunes online but we're not sure we believe it and if we do believe it we don't know where to start.
Feeling Technologically Inadequate
---
Then, of course, there's the technology gap.
I think using technology and the Internet can be a lot like driving a car. If you turn the key and it starts your okay and on your way. If the car doesn't start panic sets in.
You know you can't fix it, heck you don't know what's wrong or where to start but you know you can't go anywhere. Your plans fly out the window. Call triple A and wait for help to arrive.
Many of us feel the same way about using technology. When it works we're fine and we can feel our way through it to reach our destination. But if something goes wrong we feel overwhelmed and often inadequate. So, a job working online can seem completely impossible and building an online business out of the question.
Striking Gold
---
While I was researching the topic on Google and about to pull the trigger on trying something new – retiring to an online business – I struck gold. I read a review of Wealthy Affiliate (WA). WA was not the product I was considering at the time but I liked what I read about the program.
There were three things that caught my interest.
WA promised the training needed to build and grow and online business.
The review discussed a community of like-minded people actively helping each other to succeed.
The ability to try it out for free and my credit card was not required so it seemed like a safe bet.
I took the plunge and I'm glad I did.
Everything WA promised was true and then some. I found a new way of life, made a lot of new friends and I'm learning new things every day.
The Wealthy Affiliate Experience
---
Here's what I found at Wealthy Affiliate (WA) that has changed my life and made the idea of being able to retire online possible
I could start for free.
They would teach me the technology skills I needed to be successful.
2 fully functional websites are included.
There are 12 website template designs to choose from.
I could publish my website in less than 15 minutes.
The free program includes 10 online business lessons.
A weekly life training session is provided.
Access to Jaxxy a keyword and niche research tool.
Hosting and security are included.
There is a community of users who help each other succeed.
There was only one price upgrade and no other upsells.
If I decided to continue premium membership is priced ($19 trial for the first month and $49 per month after):

with 2,600 website templates,
and training to

build your website,
drive free traffic to the website, and
grow your business.
So, I tried the free Wealthy Affiliate program. It was one of the best decisions I have ever made.
What Do I Recommend?
---
I've done the research and tested the system for you. If you're like me It's the best option for someone just getting started and trying to retire online.
If you are thinking of trying to make money online now is the time. And, the best part of it all is you can use the free membership try the whole system and see if it's right for you too.
If you're ready to retire online and add to your retirement income, click on the Yes, I Want to Get Started Now button.

What are you thinking of doing to add to your retirement income?
Leave any comments, questions, or concerns in the comment section below and I'll get back to you soon!
The opinions expressed in this review are those of the author and are based on a combination of personal experience, published product reviews and users' ratings.